Ho Ho Ho. Now I have a machine gun.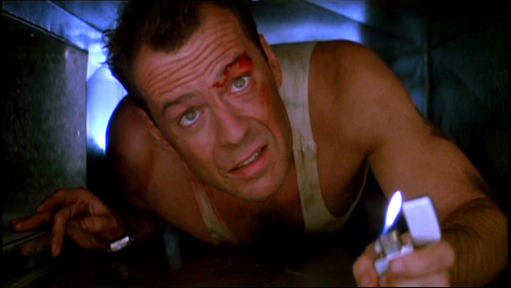 Read it, don't read it, I don't care…just needed to get some things off my chest.
In no particular order of chronology or importance…
On the clock.  Work break/ sanity check.  20 minutes.  Let's turn and burn.
TWITTER: @fillerbuster11
1)       Michael Vick will start this week due to Nick Foles being put on the IR because of injury.  Vick says he doesn't believe it is an "audition."  Mr. Vick is about as confident about his starting potential as perennially underachieving Norv Turner is about his coaching job every year.  People WILL be watching you very closely, Michael.
2)      The 49ers, fresh off getting whipped by a surprising Seattle team, lost WR Mario Manningham to a torn ACL.  Sure, it is just one guy, but it is one guy who spreads the defense.  Not saying that it is a deathblow, but it sure doesn't help.  Between Kaepernick starting at QB and seeing playoff games for the first time, and losing Mario, I don't like the 49ers to go anywhere far in the playoffs.
3)      Speaking of QB's facing playoff time for the first time, the fact that the NFC has two teams NO one wants a part of who have ROOKIE QB's is insane.  Only time will tell who will wilt between Griffin and Wilson, but it sure as hell will be fun to watch.
4)      The Highlands are Denver's new trendy place to live.  The place is not my style at all.  Lindsey's family and I went there after a Christmas Eve service, and not only was there ONE thing on the menu where I knew what the ingredients were AND kind of could tolerate all of them, but then my dish comes with one NEW ingredient that was NOT listed that I hate-beans.  Ugghhh.  Can it be law to have a grilled cheese on your menu no matter WHAT your target audience is?
5)      The Sacramento Kings reinstated resident idiot DeMarcus Cousins.  The over-under before he does something else dumb is officially 9.5 days.
6)      Joey Porter has been busted for writing bad checks.  I hear that he was going to ask some of his football pals to loan him some money, but then he realized his entire career was based on pissing coaches, fans, and teammates off.  Whoops.
7)      Michigan QB Denard Robinson WILL be drafted this year to the NFL.  What position that will be is a mystery, as we all pretty much assume that the team that gets him has no interest in his below par QB skills.  CB is the last one I heard from a scout.
8)      Three Texas Tech players and two Syracuse players are banned from bowl games.  Are kids getting worse behaved and not even care that they will miss the finale, or are coaches getting more stringent?
9)      The Eagles are rumored to be looking at Chip Kelly for their coach.  Talk about not even letting the paint dry.  Everyone take a deep breath, and at least let everyone play their last game of the season.  Would Chip go?  Hard to tell.  I would say he is pretty happy up there in the northwest, but he can't seem to get over the hump either with these pretty darn good teams he has had over the years.
10)   Do you really want me to even talk about these introductory crap bowl games that have teams where we need to see if they were actually above .500?  I choose not to cover them for now.
11)   Steve Nash is back and the Lakers are playing pretty well as we expected.  Playing well on offense will not be a problem, but I DO wonder about the defense of Nash and friends when born to be a backup Jarrett Jack is getting 29 points in a game.
12)   When talking about the Bourne movies, I notice that a lot of people ask me if said "porn?"  It kind of makes everyone chuckle when you say you and your woman are going home to watch "Bourne."  Please tell me that someone in the porn industry has already been all over this for some time now.  I wonder if they came up with an inventive plot for Bourne Ultimatum.  Legacy will be an easy one.
13)   As opposed to Michael Vick, Cards RB Beanie Wells has said this last game WILL be an audition for him…for every other team in the league.  All I know is that I am NOT picking you in fantasy next year, no matter HOW inviting it looks.
14)   VERY cool.  Virginia Tech football is honoring Newtown on their helmets.  Sad thing to have in common, but a very nice gesture in a classy way.
15)   Nadal pulled out of Abu Dhabi with an injury.  He is becoming a mad lib.  Just throw a line under Abu Dhabi, and replace the words with "(place)."  You can add "and he is simply resting up for the only tournament he cares about" to the end of it.
16)   The Cleveland Browns apparently want Nick Saban as their coach.  Not like coaches sometimes don't mind rebuilding jobs, but I would say there are very few places on earth where the grass is greener on the other side than where that monster he built plays in Alabama.
17)   I don't think that A.P. will get E.D's record.  He has a lot of ground to make up still, and Minnesota needs to focus on just winning the game to get in the playoffs.  Sure, his running is a large part of that success they have had, but let's worry about a win first, your running stats second.
18)   Weird stuff in the AFC this year.  Everyone who is presently in…is in.  They are just playing for seeding.  I don't remember the last time that happened.
19)   When the HELL did this information come around?  I was watching TV the other day, and a trailer came on.  It looked a lot like a Die Hard one, but I hadn't heard about anything new.  Anyway, it WAS.  There is another Die Hard coming out and I am STOKED.  To add to the incognito way they marketed this, it opens on Valentine's Day.  You KNOW you have a successful line of macho movies when you are cool enough to open on a day when all girls around the world plan on tricking their significant other into watching The Notebook.  Anyway, I will get back to you once I devise an evening that makes it well worthwhile for Lindsey to go see Bruce Willis shoot up stuff on screen.  I don't even care how he coincidentally ended up in a position to save the world or a town again-it is awesome.
20)   I was watching the Celtics-Nets game yesterday and came away with two conclusions.  Paul Pierce looks REALLY fit and younger this year, and barring injury to K.G., I like that team a LOT to give the Heat all they can handle.  Also, Jared Sullinger was a SOLID first round pick.  Sure, he is short for his position, but he is a smart, hard-working player that will provide valuable minutes comes playoff time.
21)   I can't believe the announcer for that game busted out No Babies Allowed.  Quit it.  There are PLENTY of babies in the NBA.
22)   I am a fan of JR Smith's talent, but HATE how much of an idiot he is.  He has the potential wherever he is to personally bring down a team just as likely as he might go on a 3 pt barrage.  The Knicks were down 97-94 with 29.5 seconds left on their end of the court.  He receives a pass inbounds, and immediately fires a contested 3 pointer.  Why?  You get a quick two by maybe PASSING, and then foul/ defend.  Come on, dude.
23)   It IS just a Christmas Day regular season game, but a pattern happens in things, and I see a pattern that the Thunder have HUGE problems beating the Heat.
24)   The Clippers won their 14th straight.  Unless you live in a bubble, you know these guys are legit and a serious contender.
25)   What did YOU do for Christmas, Andrew Jones?  "Well, Fillerbuster, I dragged my wife down the stairs after she asked for help for the morning."  That is great, Andrew.  After an underachieving career overall, don't feel the need to be an overachieving domestic abuse guy.  I hope you learned, and we don't hear from you again.
26)   That is it.  Back to work.  Hope you enjoyed.  Will I blog tomorrow?  That is a CLOWN question, bro.  Peace.